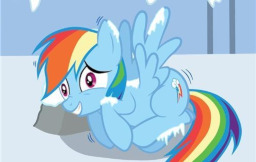 When Rainbow Dash came to Ponyville she built her own house to live in. A cloud house. The only one of its kind in Ponyville. Just like her owner, she said.
Maybe she should have given more thought as to why no other pegasus had a cloud house in Ponyville. Or take a bigger loan and spend a few more bits on it.
Now, every winter, her bad decisions come to take a bite out of her frostbitten flank.
Chapters (1)