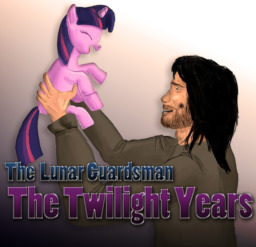 Twilight Sparkle has a special guardian while under the tutelage of Princess Celestia. A creature that turns intensely violent at the slightest threat against his charge. A creature that will maim and kill without concern if it has to, that will do anything to keep those it loves safe.
These are not these stories.
These are the stories from the inside. The stories that make a makeshift family work. The small moments. The little secrets. The normal life.
Short stories about Twilight's and Spike's life before the events of the Lunar Guardsman. Maybe a little funny, maybe a little sad, maybe a little sappy, certainly not on any chronological order. Chapters posted whenever I am taken by the mood to write one.
This is a collection of prequel stories to The Lunar Guardsman, an M rated story currently in progress by yours truly.
Many of the chapters are worthy of the Comedy tag, some of the Sad tag, and a couple of the Dark tag.
Chapters (20)