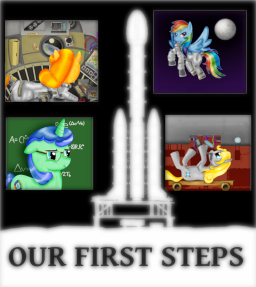 "In a secluded desert on the frontiers of Equestria, an eccentric genius works to bring the stars within reach of everypony. But can smiths and metalworkers who never made anything more difficult than ploughs or golden trinkets really make the dream a reality? Or has inspiration arrived a hundred years too early?"
Originally published on Equestria Daily (6-star), uploaded to FimFiction upon request.
Imported from GoogleDocs in order to preserve formatting (italics/etc.); this may have resulted in table-breaking and other various display bugs. Should you see such issues, please do not hesitate reporting them!
Chapters (18)