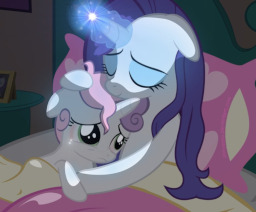 Source
Sweetie Belle has a nightmare that scares her immensely. Rarity comes to her side to comfort her. When Sweetie Belle explain what she dreamt, Rarity teaches her a valuable lesson about growing up and sings a Lullaby that their mother once sang.
Warning: Sisterly Cuteness to ensue
The art doesn't belong to me. It belongs to Ponyecho who I think is a fantastic artist.
This is also a contributing story for the Writeoff Association, A Matter of Perspective
Much thanks to all of my terrific editors and Proofreaders.
Editors: JuneGold, Arcelia, and IfFoundReturnToRarity
Proofreaders: WingmanRed and crazypony300
Give these guys a look over because I think they have outstanding talent.
Chapters (1)