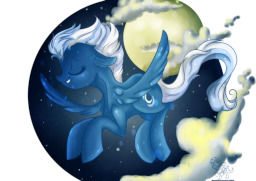 Source
After having been stuck in the monotony of Starlight Glimmer's village for so long, Night Glider has no idea what to do with her newfound freedom. Knowing nothing about her past and having no friends or family to return to, she decides to go to the Princess of Friendship to discover what it means to have friends, and hopefully discover what lies within her own past. With such mysteries to uncover, will the two become fast friends, or will it all fall apart when the going gets tough?
---
Collab with ForgottenExistance up to chapter twenty-three
Cover by downpourpony
Latest edits by Midknight Defender and TuxOKC
---
This story got a lot of build up before anything really happens!
Later there will be some heated scenes, but no clop!
Chapters (26)