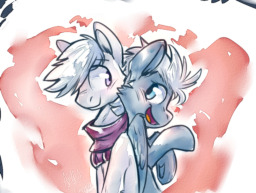 Years after Starlight Glimmer fled the hidden village, the lives of the village ponies have greatly improved. They are now free to make their own choices, to lead their own lives, to love and hope and dream.
But with that freedom comes risks.
Night Glider made her own choices, led her own life, loved and hoped and dreamed. And she lost some things and gained some others.
These are her memories. The memories of her snowcolt.
EDIT: Now with a reading by ZeusMacD! Click here!
Chapters (1)