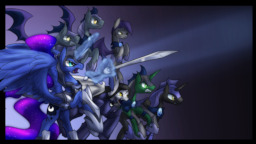 Source
This story is a sequel to LT: For the rest of our life
---
Story number four from the Lunar Tales
---
Equestria, the land of harmony. But how could such a land exist for a thousand years? The short and sweet of it is: it can't. The price of peace is often bloodshed and violence.
It is the bat-ponies that pay this price, that keep Equestria peaceful and harmonious. They operate without the knowledge of the other races. With the help of the princesses, they've maintained this façade for a thousand years. However, even with their centuries of experience not even the princesses are experts at war. They're good at it, great even, but it's not their talent.
When a mare emerges whose special talent is war itself, she is quickly elevated through the ranks to put her talents to use for the good of all of Equestria. But for one to command, they must have the unwavering trust of everyone under them. Can Celestia give her this trust?
And if not, who will pay the price for it?
---
Thanks to TwiDash for the pre-read
Thanks to VitalSpark for the edits!
Cover by zedrin
Chapters (1)