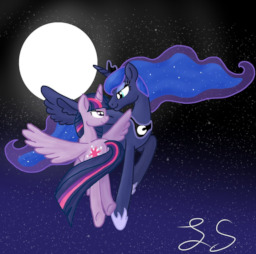 Source
Love can be a hard or an easy task. For some ponies it's harder than for others. That's something Twilight discovers as she tries to come to terms with her feelings about Luna and tell the alicorn about them. Whatever she tries isn't helping her and talking was never an option. What will happen if she invites Luna to a night of stargazing? Will her heart be able to resist, or will she finally set free her love?
---
Edits: The silly Duck.
---
Cover by some pegasister
A small reminder due the problems from the last stories. I do not own the cover, nor the art itself. The art is owned by the rightful artist, in this case some pegasister. It's NOT MINE!
Chapters (1)