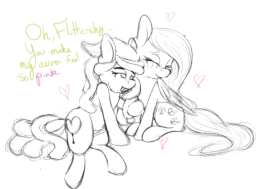 Source
Fluttershy and Tree Hugger have been dating for a long time. And it's no secret that Fluttershy would like to be a Tree. But what will happen when they finally get engaged?
---
Pure crackshipping here. I watched the episode with shipping goggles on, and this is what came from it.
Picture links to Derpi, since the Tumblr has a NSFW warning. It's probably fine, but I'm not taking any chances. If you're so inclined, the Tumblr should be just a few clicks away.
Chapters (1)