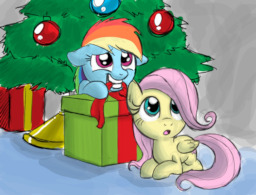 Source
This story is a sequel to I'm a Cat!
---
Additional tag: [Cute]
It's Hearth's Warming in the Rainbow household! It's a time of family, fun, and presents. How will Dashie react to her father having to work on such a special day? What gifts will she get? What adorable shenanigans await her and her family?
The quality level of this story was massively improved thanks to Hopeless Appraisal.
Author's Note:
My second attempt at first person Dashie was supposed to be out for Christmas, but you can see how well that worked out. I hope you still find it enjoyable.
Chapters (1)