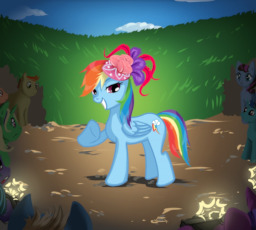 Applejack prepares for what she hopes to be the biggest apple sale of the year. And what better place to advertise such an event than the Ponyville Daily?
Except Rainbow Dash's new attention-grabbing antics keep stealing the front page, pushing Applejack's article aside. Frustrated , she confronts Rainbow Dash—only to escalate the situation for the worse in a town of media-crazed sensationalism.
---
Originally written for The Writeoff Association's Great Expectations contest.
---
Proofread by: Mayhew Cullen
Artwork by: HugsForPenguin
Chapters (1)