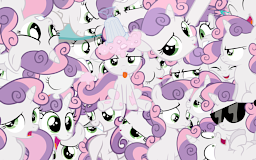 Sweetie Belle is torn between crusading with her friends and finally being allowed to help Rarity in her boutique.
Not wanting to disappoint either, Sweetie Belle decides to make a copy of herself. But it all goes horribly wrong as Sweetie Belle copies multiply exponentially and everypony in town claims one as their own.
---
Spoilers in the comments.
Chapters (1)