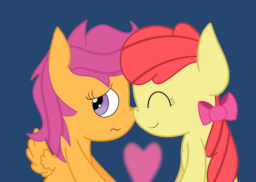 Finally with a cutie mark and out of school, Scootaloo runs her own shop where she can fix anything as a master mechanic. She lives a simple life, simple but fulfilling. Yet, something is missing... but the mare doesn't want to admit that what's missing is really important.
But someone else can help open her heart.
---
Huge thanks to Contodaslasganas for editing and Mayhew Cullen for pre reading.
Chapters (4)