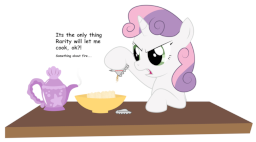 This story is a sequel to All I Want To Do Is Cuddle You, Scoots
---
Sweetie Belle deals with powerful new emotions as she hopes to create a magical romantic dinner for Scootaloo. However, her attempts at cooking end in disaster and Rarity bans her from the kitchen after it was nearly destroyed.
Luckily Rarity is there to comfort the filly and offer an alternative solution for Sweetie Belle so she can still have that dinner.
---
Rated Teen for racy suggestive scenes.
Chapters (1)