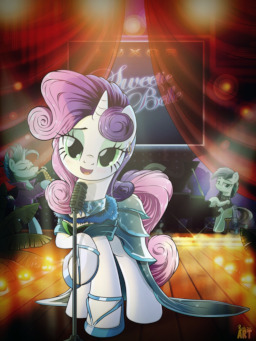 Everything is going great for Sweetie Belle. Well, her job isn't, but she's not too worried. She's got Scootaloo, the best filly-friend in all of Equestria. After work they go out to the local gin joint and dance and drink and blow off stress from the work day
Sweetie Belle, an aspiring jazz musician, takes the stage for some extra bits. Everything is looking good in her life. Until she overhears a conversation that calls everything into question.
---
Just a quick little slice of life.
Sweetie Belle and Scootaloo are aged up to whatever early 20s is equivalent to in pony years.
Chapters (2)