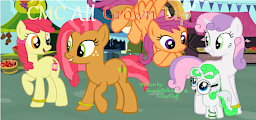 Source
It has been ten years since Tirek was defeated, and now the Cutie Mark Crusaders are all grown up. Sweetie Belle has a foal named Emerald. Apple Bloom is engaged. And at the same time, Scootaloo is waiting for her response from the Wonderbolt Academy. Want to know more? Stay tuned!
Thanks to xStellar_Bubbles for the artwork!
And thanks to FelineFluff for editing AND big shoutout to her as well for writing the first, third, and fifth chapter.
This is going to be a thing where I write all of the even numbered chapters and she writes all of the odd numbered chapters. We hope you enjoy it!
Chapters (7)