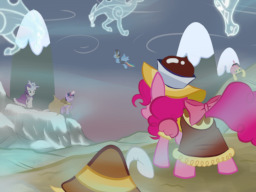 Source
[img]http://oi58.tinypic.com/b3x10k.jpg[/img]
Congratulations on choosing this, the first edition of A Brief History of Equestria!
For far to long, the vitally important role of educating our foals of the history of our nation has been delegated to Folk Lore and word of mouth, while the realities of the past have been documented, stored and educated only to the elite. It is therefore the intent of myself, the Royal Historical Society, and the Royal Ministry of Education to provide the common pony with access to a document that offers as full a history of Equestria as can be practically provided, which is the tome you now hold in your hooves.
Keep in mind that no single book cannot replace a properly structured and scheduled classroom on the subject, and while an Encyclopedia format would give a much more comprehensive narrative, the copious amounts of information would render the exercise counter-productive. As such, this book can only give what amounts to a summary of an abridged version at best. It is my hope that everypony who reads this gains an insatiable thirst for more. Hopefully with further editions, more knowledge can be included, along with a collection of tie-in texts that focus more closely on specific areas of interest.
-Twilight Sparkle, M.B.A., on behalf of the Royal Ministry of Education.
TVTropes Page
MLP Fanart Wiki Page (needs wiki love)
OST
Chapters (20)