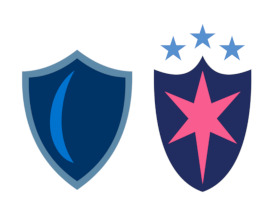 In Equestrian heraldry, the Kite Shield is a symbol of protection and strength, and those ponies with a kite shield cutie mark are usually honor bound to bravely protect any sapient being who may need their aid, often at great risk to their own lives.
This is the story of two ponies with such cutie marks, and what these cutie marks reveal to the other.
One pony is a gallant and brave career soldier, who has devoted his entire life to protecting Equestria from all enemies foreign and domestic.
The other is the reincarnated form of one of Equestria's greatest villains, given a second chance, now honor bound to use her power to protect the ponies she cares about.
It is a year since the events of Winter Bells and great changes are afoot this Hearth's Warming, as a newborn alicorn prince binds Twilight's family closer than ever. And a conversation about the similar marks on their hides will give Uncle and Niece a new and better understanding of each other, and of each other's place in Equestria's emerging future.
A unofficial fan made sequel to Past Sins.
Thanks of course to Pen Stroke who created Nyx and her Universe.
Super special thanks to my tireless Editor and main(and rather heroic) proofreader Recon777 and to awesome prereading duties by Nightmare Nyx. This story is only readable thanks to their efforts . All Mistakes remain my own.
Cover image by yourstruly, Nyx's cutie mark was designed by Alexlayer.
Chapters (1)