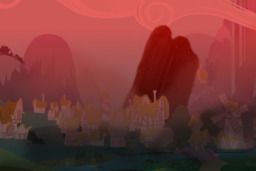 Author Note: Thorn of the Earth is getting cancelled, however this is merely because at some point in the future I plan on rebooting it as I have grown in my writing talent and I believe a reboot would be better for it.
One day a large object falls from the sky and crashes into Ponyville. While the town still remains a large portion of it has been destroyed by the alien object. This story consists of documents, records, and verbal accounts surrounding this event, taking place before and after the impact.
The story is much like a "found footage" story. It was also slightly inspired by a few videos I have seen such as Earth to Echo (except without the cute little robot/alien thing) and District 9 (except without the foul language, brutality, and prawns).
Also I made the image using GIMP.
Note: The story takes place after the events of the Season 4 finale.
Chapters (6)