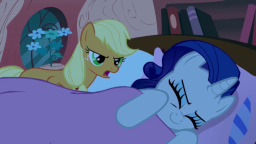 Applejack and Rarity must deal with each other for an entire week as the cowpony mends after an incident. Applejack just wants to get home as fast as possible, but after spending time with the brash pony, Rarity finds herself questioning her feelings for Ponyville's prized pony.
Shipfic involving Rarity and Applejack by request. I really need to stop sending ponies to the hospital in these things.
Hopefully you enjoy it nonetheless and know that this is as dramatic as it should get for the remainder of the story.
Picture is a screencap from Look before you sleep.
Chapters (6)