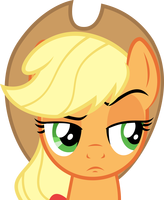 "Tirek tricked me into believing that he could offer me something more valuable than friendship. But there is nothing worth more. I see that now. He lied when he said that this medallion was given as a sign of gratitude and loyalty. But when I say that it is a sign of our true friendship, I am telling the truth."
The minute Ah heard those words, somethin' budded deep in my heart. Ah knew then that he was speakin' the truth, the entire truth, and he was talkin' from deep in his heart. Ah had always thought of Discord as a nuisance; a draconequus who was just bidin' his time by playin' along with this friendship gig, then strikin' when we let our guard down. But when he said those sentences, even though they weren't directed at me, they took root, down at the bottom o' my heart. O' course, Ah didn't know it then, but that was love Ah was feelin'.
Honest, crazy love.
---
Featured August 17-19th! A dream come true! I owe it all to all of you wonderful people! I honestly don't deserve this. Celestia bless you all!
Chapters (8)