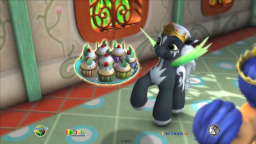 (predates Season 4 canon)
Featured on Funtasia Daily! Yay!
Princess Twilight Sparkle and the Elements of Harmony are called to Canterlot to investigate a strange creature that has landed there despite Equestria's water-tight defenses against intrusions from other worlds. It's a Funtasian: a pony-like creature that definitely isn't a pony and insists on not making any sense. How does one deal with an alien creature that won't listen to logic?
Put Pinkie Pie on it, of course.
This can only end well.
Disclaimer: This fic contains no gore, dark or cruel situations, just sunshine, happiness, and possibly cynicism. Think Hitch Hiker's Guide to the Galaxy, only the later, less upbeat books. If anything in this story resembles real people's opinions or statements, this is neither the author's intention nor the author's problem.
Chapters (4)