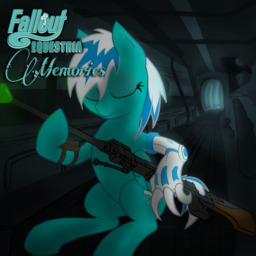 Source
My name is Frosty Winds. I was just your typical, rank-and-file Enclave scout. I had an ordinary life, living in contentment among my loving family and good friends. Things were good.
At least, I'm pretty sure that was the case; I honestly can't say for certain anymore. One moment, I was being recruited to take part in a routine Wasteland scouting mission, and the next moment I wake up as a prisoner of the Steel Rangers.
On the bright side, I'm not missing much. Just all of my memories. And my left foreleg. Nothing important, really. Pile on a disease I'm not vaccinated against and being a few clouds short of a weather system probably doesn't make any of this much better.
As if that wasn't enough, apparently I made a deal before I lost my memories. If I don't complete my task I agreed to within a month, I'll die. Of course, it would be helpful if I could remember what the agreement was.
So here I am, floundering aimlessly about the Equestrian Wasteland. I have absolutely no idea what happened, what I should do, or how to uncover the secrets that lie within my stolen memories.
Help. I need an adult.
---
(Read the official Prologue here!)
---
I'd like to thank Kkat for creating this amazing world of Fallout: Equestria!
Thanks to Toaster Repairpony for the awesome cover art!
Equally great thanks to my editors Unknownlight (all) and LeprechaunPoni (Chapter 29 and onward)
Previously edited by K4 (Chapters 1-21) and mikemeiers (Chapters 22-27)
Follow Frosty's out-of-universe adventures here!
But wait! Frosty's been spotted in other universes as well!
Somewhere in the Jerichoverse
Somewhere in King Sombra's Robotic Retaliation
Fallout: Equestria - Outlaw (In canon, too! Current rewrite isn't there yet.)
Fallout: Equestria - Frozen Skies (In canon, too!)
Chapters (34)