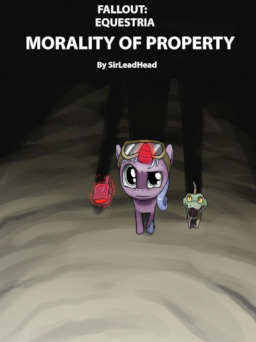 Coin Slot, a slaver in the Equestrian Wasteland, is making just a regular sale when something a few miles away explodes violently. Deciding to check it out, she discovers a strange weapon of unknown origin that seems to mesmerize its targets. There are... drawbacks to this weapon, however, and its discovery soon leads Coin down a chain of events that will change her morals, lifestyle, and even her very soul... provided that she manages to survive. Will the friends she makes be enough to convince her that her slaving ways are immoral? Or will they just reinforce the belief that that is one of the best ways to survive After the End?
A side story of Kkat's Fallout Equestria. Which is excellent.
Here's a link to the Gdoc's index
Cover image by http://felixattchar.deviantart.com/. He's awesome. Look at his stuff.
Chapters (15)