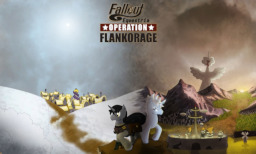 In the frozen north of the Equestrian Wasteland lays a city, battered and crippled, but still clinging to life. It is beset on all sides my dangers.
Displaced griffins rage against the ponies they blame for the apocalypse. Madmares brood with their unquestioning minions under mountains of prewar technology. The Unity extends its malefic tendrils to sake it endless hunger for slaves. Unnatural horrors stalk the forests, consuming all in their path. A dozen factions rage against each other in wars of words, caps, secrets and fire, tearing at the very foundation of The Sovereign City. All the while an ancient threat prepares to once again, bathe its self in the blood and anguish of ponies.
Welcome to Flankorage.
(Comments are encouraged as this is my first attempt at fan fiction. The more feed back I can get, the better I can write.)
Chapters (15)