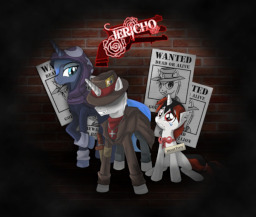 If you came to hear a story, I'm sorry to disappoint. I suspect this'll just end up as one big confession, really. When you're the first Teutscher to set hoof into Equestria, I suppose that's to be expected. And when you're the universe's favorite chew toy, doubly so. Still, with enough wit, some Prussian ingenuity, a droll sense of humor, and wanton murder, I might just survive this. Then again, when you're going up against an unending list of things like government conspiracies, that guardian angel who keeps telling you to kill ponies, psycho Equestrian girls with allophilia, a lunatic princess, the legions of the Inferno, the Equestrian culture itself, swashbuckling sword fights, and laissez-faire economists, you begin to realize why there's a big "if" in the middle of your life.
Your thoughts/critiques/deathreats are welcome in the comments. Spoilers are also encouraged. If you don't have anything to complain about, do please tell me what you liked so I know what worked.
Now on TV Tropes. Posted on the Equestria Daily 5/28/13. Now in ePub format for your convenience.
Chapters (43)