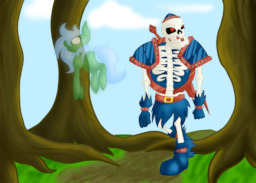 Source
Another story for Rust and Blackwing's ever-popular universe, Chess Game of the Gods.
Our hero this time is a gamer, who has awoken on our favorite planet full of ponies, gryphons, and other lovely creatures.
But it's not the area he wished to start.
Not in the body he believed he would obtain.
And quite certainly, not in the current situation.
Taking on the name of a famous hero, he's hoping to rally the forces against those who would eradicate the dead. Adventure awaits in the four corners of the world, and he's gonna explore...a good portion of it. And throughout it all, he hopes to prove two things:
Light does not mean good, and Dark does not mean evil.
*NOTES*
All respective game references are copyrighted to their respective owners. No, it's not a crossover with any of them, even though the hero is one of the monsters.
New coverart by Deviant Xxcron! Check out more of her work! http://xxcron.deviantart.com/
Chapters (51)