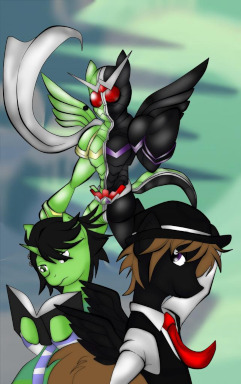 This story is a sequel to Friendship is SHOWTIME!!
---
Takes place in the same verse as Friendship is Showtime. It's actually a Prequel, not a sequel, but FIMfiction doesn't have the option to my knowledge.
All things have a memory, and the planet is no different. The Gaia Memory contains knowledge of everything that has ever existed in the land of Equestria. If knowledge is power, then the power of the Gaia Memory is a great and terrible indeed.
When this power is harnessed by a mysterious syndicate and falls into the hooves of criminals, Cloudsdale experiences a crime wave the like never before seen. The floating city's only salvation may be a mysterious two-in-one detective.
Those who make Cloudsdale cry, prepare to count up your sins!
Alternate Universe beginning several years before "The Mare in the Moon".
Thanks to MangaKamen for letting me write in his universe!
Trope Page, mainly to give me motivation, but enjoy!
Thanks to my friend Alexwarlorn for some help in writing!
Thanks to FlairNightz for the cover art!
Chapters (6)