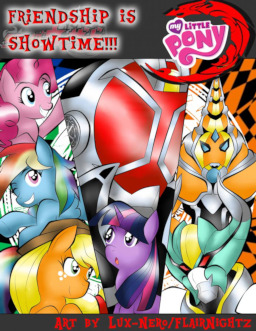 A Kamen Rider Crossover
Magic – a mysterious force in this world, capable of bending reality. At the beginning, magic was considered to be a form of science, with as many kinds of magic as there are stars in the night's sky. As civilization advanced, many forms of magic were forgotten.
As time passed, only a few forms became common place in Equestria.
But when an ancient magic surfaces from the pages of a lost legend, Twilight learns that there's more to magic than what she's learned in her studies. A new world of magic and wonder is revealed...
And remember: Life is Showtime!
This is an Alternate Universe story that starts after the episode - The Ticket Master.
UPDATED: Featured on October 2, 2014!
Featured again: November 13, 2014
TVTropes Page! : Friendship is Showtime
Chapters (42)