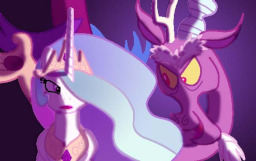 Discord was defeated, but what if the Princess was unable to reach her student. What if Twilight didn't get the friendship reports that she had written, and rediscovered the magic of friendship.
What if...she had written one last letter...and left Ponyville forever?
Inspired by the song One Last Letter by SoundofTheAviators, this is a dark oneshot I decided to do. I hope you all enjoy it.
Hey, it got onto Equestria Daily! Three Cheers for eternal chaos, muahahahah!!
Chapters (1)