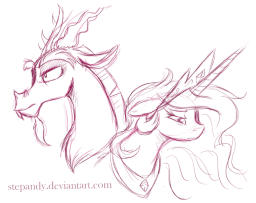 Source
Celestia has finally found her eternal partner in love. Twilight Sparkle, Element of Magic, savior of Equestria, and co-ruler of the nation. Celestia feels nothing but pride and love for her student, friend, and lover. However, a secret remains hidden in her heart, hidden from herself. Why did she choose Twilight, of all ponies, to be her student?
Unfortunately for her, Discord knows the answer all too well.
Got the art from the greatly talented StePandy. Go check them out for even more awesome art!
Thanks to my prereaders/editors Skeeter the Lurker, HellRyden, Vexine, Ghostwriter95, Cozmosus, Flint Sparks, Merc the Jerk and SpaceCommie!
Chapters (1)