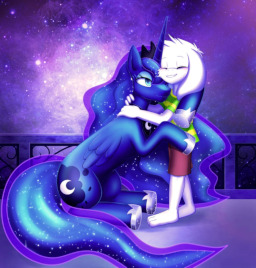 Source
With the barrier broken and the Monsters free, Asriel Dreemurr is apprehensive about what he knows is coming. He won't be able to maintain his form for much longer, and is afraid of no longer being himself again.
Then, a mysterious figure offers him a deal. A second chance, an oppurtunity to redeem himself... but the figure chooses where he gets that second chance.
Not wishing to become a Flower again, Asriel takes the chance, and is transported to a whole new world of magic, wonder, sights no Monster has seen, and of course, the magic of harmony and friendship.
And into whose hooves does the figure send him the young Prince to? Why, the hooves of someone else who has been given a second chance, and seeks to redeem herself and make up for the mistakes of the past. None other than the Princess of the NIght, Luna herself.
Come along as the young Boss Monster does his utmost to make good use of this second chance, and along the way, find family in a land far from his own.
Awesome cover by Cyaneworks over on Furaffinity~!
Has a companion story right here, Hopes and Dreams at Canterlot High
EDIT: (Featured 4/21, 7/14)
Thank you thank you thank you aahhhhhh you're all amazing
Chapters (6)