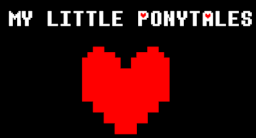 When Frisk finally figured out the way to save everyone, to bring both of their friends back and reunite a family that had been suffering for so long, they'd expected to lead their friends and all of the Monsters out to rejoin the humans.
When they instead found a magical world full of candy colored Ponies, needless to say they were a bit surprised. Especially when Frisk and Chara both became Ponies themselves.
Undeterred, and being welcomed in by the Equestrians, follow the Dreemurr family and the many other Monsters as they make a new life for themselves on the surface with their new Equine neighbors!
-----------
Hello! This story is meant to be an Episodic series, with most of the chapters not being ones you have to read to know whats happened in prior ones. In this verse, Asriel and Chara both have been brought back but Chara and Frisk, the only humans, have become Equestrians. Frisk is a Unicorn, and Chara is a Pegasus.
I've got plans to introduce the ability for readers to create their own characters to have show up in the background or perhaps even as minor characters in episodes, and possibly even a chance to submit episodes if people show an interest in the idea.
Anyways, I hope you all enjoy it!
Chapters (1)