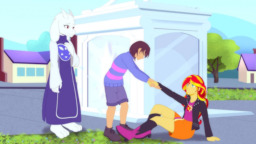 Source
With the Humans of Ebott City effectively rejecting the Monsters of the Underground, Frisk and Toriel have been working with King Asgore to try and find someplace that will accept the Monsters so they can leave the Underground and the camps outside Ebott.
As it turns out, a city to the north of Ebott called Canterlot is experiencing a major construction boom, and the Mayor of the City is wanting to bring in lots of new folks to boost the city's growth. Hearing of the Monster's Plight, she offers to help them come settle in the friendly and welcoming city.
With other options not panning out, the King and Queen take Frisk and head off to the City as part of the first group of Monsters hoping to build a new life on the surface. Frisk in the meantime is looking forward to all the new friends they can make, especially when they start attending their new school once summer comes to an end... Canterlot High.
===========================
Companion story to Asriel Dreemurr, Prince of the Night, Takes place roughly two to three years before the first Equestria Girls movie, but is also loosely taking place at the same time as the events in the companion story due to weird temporal stuff.
Rated Teen for now, may be upgraded to mature further down the line when characters get a bit older.
Genderqueer Frisk, leans feminine, born male, they/them/their. If ya see an instance I mess this up with, please let me know~
Featured on 3/18/23, 6/2/23 YAY! I don't think it was featured in the past, but YAY!
Chapters (7)