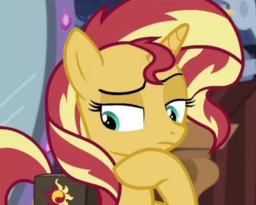 Sunset Shimmer's life was good, she had plenty of friends and greatly enjoyed where she had eventually ended up in life. It's a shame then that reality had a different opinion on where she belonged. Now stuck in the past prior to first leaving for the human world, Sunset will have to figure out what kind of direction she wants to take in life this time around.
After all, the future she herself lived with her friends was not reachable without doing things that she now found appalling. Even so, she knows that staying in Equestria could very well doom the world to a much darker future. If she had time to draft a plan she could probably figure out something that would keep herself out of the way while also not affecting the timeline, it's a shame then that the two princesses of Canterlot would just not leave her alone!
---
Apparently this thing got feature mere days after publishing... somehow.
Chapters (4)