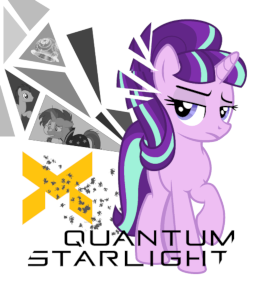 When knowledge of Sunburst's great skill in magical theory spreads to the small Streamhaven University, he's offered a position on a time travel experiment. Knowing of Starlight's history with time travel, he invites her to see the moment of truth, the first actual use of the time machine. Starlight accepts. After all, what could possibly go wrong?
Everything. The time machine malfunctions. The project director disappears. Time begins stuttering. And Starlight and Sunburst find themselves pursued by the mysterious Monarch Solutions, a company that knows much more about time travel than they should. Now it's up to Starlight and Sunburst to find a solution to their predicament before time itself ends forever.
---
Although a crossover with Quantum Break, no knowledge of it is needed to understand this story.
Chapters (16)