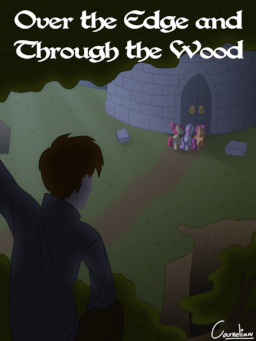 Source
A young man lost in the hilly embrace of a mountain sleeps the night away under a knot of tree roots. When he wakes he will find himself thrust into a strange new environment, the Everfree Forest. With only his pack and his experience as a Boy Scout to aid him, he must survive, make sense of his surroundings and with some luck, ultimately find his way home. What does one do after wandering beyond the edge of the map? And better yet...
What if you are not alone?
~~~~~~~~~~~~~~~~~~~~~~~~~~~~~~~~~~~~~~~~
I have been reading fan fiction here for a while and wanted to give something back.
My first fiction ever so constructive criticism is welcome. Fair warning, it takes a while for me to write a chapter so expect gaps between updates.
Rated teen for strong language
Awesome cover art by Carnelian. Seriously, the guy has major skills with how fast he drew this up.
and of course ALL CHARACTERS / REFERENCES BELONG TO THEIR RESPECTIVE OWNERS. "MY LITTLE PONY FRIENDSHIP IS MAGIC" IS OWNED BY HASBRO
NO PROFIT WAS MADE IN THE CREATION / DISTRIBUTION PLEASE DONT SUE ME OR ANY PARTY THAT DISTRIBUTES THIS WORK (unless they try to sell it, then by all means go nuts)
Chapters (14)