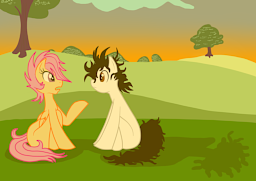 When John is thrust into the world of Equestria, filled with colourful, talking ponies and surrounded by magic, he's at a loss to understand what is happening. And as his memories of the past get hazier by the day, he wonders if he really ever came from another world at all.
Through it all, he meets an orange pegasus, who shares a similar pain to himself, and he dedicates his time to showing her that there is hope even when it seems like the weight of the world will crush you.
This is a story of two blank flanks who find their place in the grand scheme of things, a story of friendship, loyalty, discovery and healing. This is John's story and he wants to share it with you.
Chapters (8)