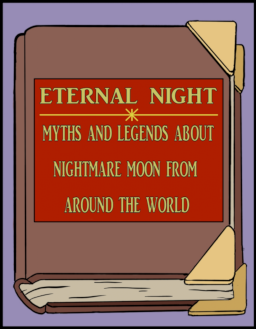 {CANCELLED}
A compilation devoted to the myths and legends that sprung up about Nightmare Moon and her attempted coup of the Equestrian throne from various cultures around the world.
The Nightmare Moon Incident shook the world and changed the face of the moon forever. Any extensive exploration of mythology will reveal insight into any one species' traditions and customs, but the Time of No Light is unique in that every civilization in the world took note and interpreted the events differently, even the ones that had no contact with any others.
A valuable introduction to the diverse ways the Nightmare Moon Incident propagated itself throughout the world and integrated itself into various cultures.
{CANCELLED}
Chapters (3)