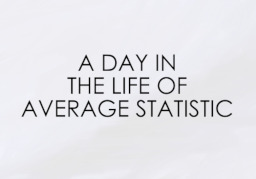 Average Statistic leads an exceedingly normal life. Every day, he wakes up, goes to work, works, goes back home, and falls asleep, with the expectation that everything will be the same when he wakes up the next morning.
At this point in most stories, something horrible would happen, something only the main character, in this case Average Statistic, could solve, prompting an adventurous quest to save the world.
But not this story. In this story, nothing exciting happens, no problems need solving, and there is no world-ending conflict.
Just the average day of an average pony in the nation of Equestria.
Chapters (1)