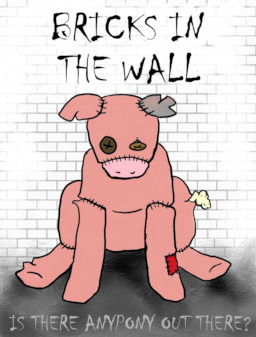 Sometimes, we put on a mask to hide our true feelings. Sometimes, we end up wearing them for far too long and we forget who we are underneath, and we lose ourselves to the madness.
My name is Pink, and I am alone.
I found my mask at an early age, and I've been wearing it ever since. I've hidden myself away, behind this wall I've made myself.
My entire life has been nothing but heartache and misfortune. I found solace in the bottom of a bottle, in sex, drugs, and rock 'n' roll, anything to fill in the empty spaces and block out the pain.
I used to think none of it was my fault, but now I'm not so sure. I've caught a glimpse through the cracks in the bricks that make up this wall, and I'm afraid.
I'm afraid that I was wrong.
I'm afraid to take off this mask and face the reproaching eyes of the world.
All in all, it's just another brick in the wall.
All in all, you're all just another brick in my wall.
~All chapters but the very last chapter of this story are finished. I made the decision to abandon this story with a heavy heart, but I have to move on from it. I have, however, posted everything I did write for the final chapter, as well as detailed notes to fill in the blanks. I consider this story completed now. Read this blog post for more info.
~Inspired and adapted from Pink Floyd's 1979 album, 'The Wall.'
Chapters (28)