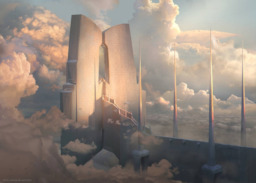 Source
This story is a sequel to Love Letters of the Princess of the Sun
---
The search for the Sombra and the Philosopher's Stone has failed. Years have passed since Celestia and Saber Ford departed from Equestria's shores, with nothing to show of their relentless hunting- and facing the haunting truth that their foe may have already found the long-elusive prize.
Desperate to preserve her people, Celestia is given a key to an ancient, timeless place- the Palace of Infinity, a gateway to another universe. Countless worlds span the horizon, and within its great depths lies the treasure they seek. But deep within the Palace lie strange new worlds, and incredible dangers.
And none who enter have ever returned.
---
My swan song and farewell to this place.
Chapters (19)