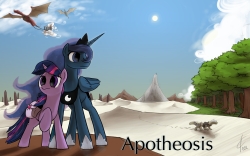 This story is a sequel to Off The Edge Of The Map
---
When Twilight is sent with Luna on a diplomatic mission to Draconia, they quickly find themselves somewhere that doesn't appear on any map, and Luna is lost in more than one way...
Thanks to RBDash47 of Pony Fiction Archive for formatting it for submission.
Title image by Valcron
Tremendous thanks to Illya Leonov and Scribbler for the Audiobook version.
Chapters (8)