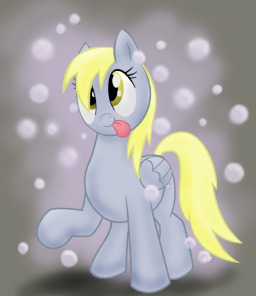 [2nd Person Fic starring you and Derpy Hooves]
It's just an average day for you at the lettuce stand when you are greeted by Ponyville's resident mail mare. Though this normally wouldn't be out of the ordinary, she seems to be sporting some...strange gear.
A/N: I always feel like my descriptions are too short. The actual description part, not the Author's Notes part.
ANYWAY, this is my Derpy story! Inspired almost SOLELY by a picture I saw. I'll put it in the author's notes of the actual story, as to avoid spoilers here.
I started writing this about a week ago, just before Christmas. Once I started, I challenged myself to finish it before the year ended. And what do ya know, I did! Didn't publish it before then, but still...I felt accomplished.
...Totally pointless information, but I thought I might as well share it.
I don't have too much to say here. So I'll just end this off with the traditional:
Enjoy folks!
Chapters (1)