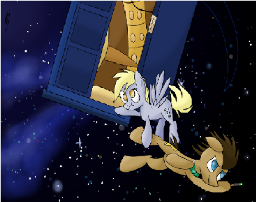 The Doctor is a Time Lord from the planet Gallifrey in the constellation of Kasterborous. He travels through space and time in his magnificent blue box. But this blue box doesn't always take him where he wants to go, and sometimes he is taken somewhere even he, with over a thousand years of experience, doesn't know a thing about.
Now he finds himself in an altered timeline where, somehow, the primary species of Earth happens to be colourful equines. To complicate his problems, he's found himself in a new body that he hasn't quite figured out yet. And with no foreseeable way back to his universe he does what he always has; protect those who cannot protect themselves.
Follow the Doctor and his companion, Derpy Hooves, as they travel through time and space in a miraculous police box of the bluest blue you'll ever see as they save (and, on occasion, endanger) Equestria and the world.
---
note- Fic Image was created by pancake-ss and used with her consent.
Chapters (7)