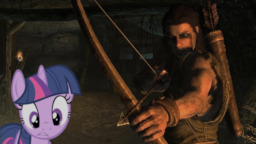 Twilight Sparkle's talent for magic is ever growing but when she starts learning long range teleportation she quickly finds that any slight error in direction can become great errors. Finding herself on the continent of Tamriel, a continent she didn't even know existed, she desperately tries to find a way back home. But between Tamriel's hostile climate and it's unique inhabitants seeming to relish in conflict fate itself seems to be acting against her.
---
note- This is a crossover fic with MLP and The Elder Scrolls that takes place between season 2 and season 3 of MLP and about 20 years before the events of Skyrim.
note- Much research has gone into this story to keep everything Elder Scrolls as accurate as humanly possible in it's portrayal. Every city, organization, and major event is established in Elder Scroll lore.
note- Despite the fact above, no knowledge of Elder Scrolls is required to understand what's happening in the story.
Chapters (6)