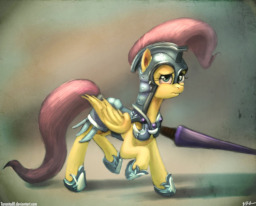 Source
In an otherworldly night, a sleeper train is making its way back from the frozen north. Sleep, however, is eluding two travelers. One has a hurt that needs to be mended, the other has a dream that must be remembered. It is the perfect night for secrets to be shared.
A FlutterDash one-shot, set at the end of The Crystal Empire, on the overnight train back to Canterlot; uncomplicated romance with slight sad and comedy elements.
Enormous thanks to NATOstrike and Shadowsreached for their awesome proofreading and feedback-ing! Thanks also to Tarantad0 for letting me use that amazing Jousting Fluttershy picture.
Chapters (1)