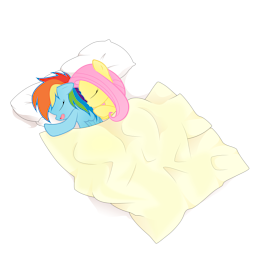 Source
Winter, for some ponies a fun time of the year where they get to play in the snow and skate on the ice. For some ponies, winter is but a bothersome time of year when the snow gets in their way and they try to keep warm each day. For Fluttershy, it is a lonely time of year, a time where she feels as empty as her house.
Each winter day, each and every year when the winter season comes, Fluttershy awakens to loneliness. This year though, things are slightly different. This year, she has somepony beside her to listen to her pains and try to fill the void of loneliness.
The cover image for this story is the artwork 'Flutter Snuggle' by Kurokaji11.
If the cover-art and the name of the author for this story wasn't an obvious enough hint, then I shall forewarn you that this story contains FlutterDash shipping.
I do not - nor do I claim to - own any characters or artwork I use in this story unless otherwise stated - they belong to their respective series and owners.
Chapters (1)