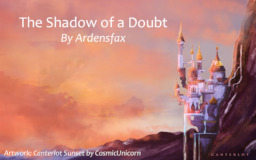 Princess, Professor, friend. What more could a pony ask for?
Ten years have gone since she met her first true friends, and Twilight Sparkle has begun to find the past weighing upon her. She always knew that her friends would begin to drift apart with time; she understood that those endless Ponyville summers must end one day. Still, even though Twilight has accomplished her dreams, something is keeping her rooted in the past.
But the bustling, decadent nights in Canterlot are made for sharing secrets, and tonight, an old friend is waiting for her among the crowds. Could a familiar face and a guiding hoof be enough to lighten the young princess's burden?
Enormous thanks to the amazing Shadowsreached for proofreading and editing. The epic cover painting was created by CosmicUnicorn.
Chapters (2)