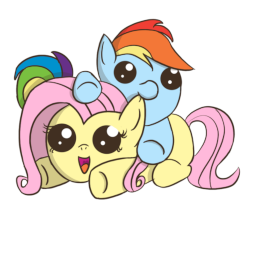 Companion story to Souldin's Open To Interpretation
Rarity, Twilight and Applejack discuss one certain moment during the fight scene against the Changelings between Rainbow Dash and Fluttershy, in wonder of what REALLY happened. But what of Pinkie's mention of the two Pegasi snuggling together, nibbling each other's ears, and getting all lovey-dovey?
Here's what was going on all along with Rainbow Dash and Fluttershy!
Chapters (1)