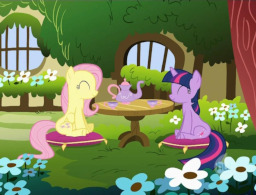 Twilight Sparkle is in love with Fluttershy, but now she knows what love is, she doesn't know how to express that love. So after seeing Applejack for advice she makes a plan to go on an adventure with Fluttershy to find this rare flower that shines silver, and sings when those destined to be together are present.
Can Twilight confess her love to the pegasus? Will Fluttershy enjoy going on this adventure? And will the pegasus accept Twilight's love?
As with my first story, constructive criticism is greatly appreciated.
Chapters (24)